The Silkenswift Borzoi Pages
Silkenswift is the Kennel name used by:
Bonnie Dalzell, MA and James Saklad, MD
Land mail PO Box 9767 Baldwin, MD 21013

The kennel name is from a story The Silkenswift by the late writer, Theodore Sturgeon,
and is used with his permission.
Silkenswift has two pages on Facebook:
Silkenswift has produced more lure coursing performance titled sighthounds than any other kennel in the world, and the ratio of performance dogs to litters bred is probably also unmatched if kennels that have bred 5 or more litters are considered.

Index to Silkenswift Borzoi and Relatives on the Web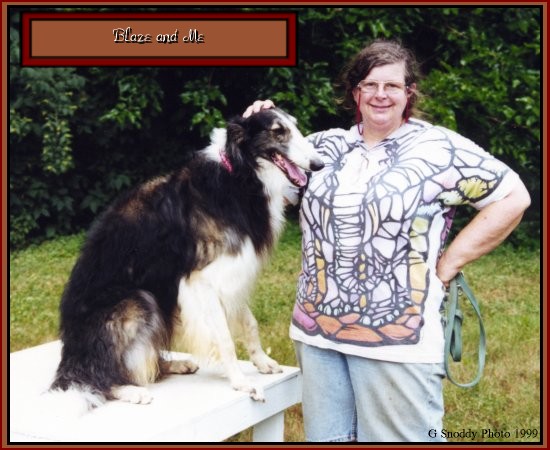 Silkenswift Borzoi is planning a litter for summer of 2015.

Feb 22, 2015 FC Silkenswift Bright Focus, (a daughter of Silkenswift Burning Bright) had a litter sired by Ch Teine Dark Crystal SC.
One of these young dogs already has two Majors towards his AKC Championship having taken winners dog in two specialties in May of 2015.
Aug 25, 2006 Silkenswift Burning Bright has a litter!.
This was a very successful litter of coursing and racing Borzoi.
I will post details later.
Biography and Photos of Silkenswift Howff Ishtar
Whirlwind's dual sired litterBorn Sept 9 2002
Dam: Carbonel Gwynmyrrh of Avalon
Sire: Dual Sired Litter Mielikki's Somebody T'Luv and Silkenswift Black Aster.
Litter Born Jan 14, 2000

Sire: Silkenswift Moscow's Sundanc
Dam: DC Silkenswift Pelee's Fire, SC, FCh

Litter Born May 22, 1999.

Sire: Silkenswift Blaze of Chaos,

About the Midnite * Isis Pups: pictures!

BLAZE

#1 ASFA Lure Coursing Borzoi for 1996.
#1 LGRA
#1 NOTRA

Flash

One of the first Borzoi to earn a MC.
#1 AKC Lure Coursing Borzoi for 1996.

VLAD

Blaze & Flash's litter brother, FC Silkenswift Shadow of Chaos, FCh SC
#4 CKC Lure Coursing Borzoi for 1996 - having only run in 3 canadian Trials.

Pedigree of Blaze, Vlad and Flash

AERO - LGRA top racer

GRC Silkenswift Blaze's Blue Aero
A Blaze * Sabrina son belonging to Pat Paris

AMBASSADOR

Blaze's son, Silkenswift Ambassador , Silkenswift Ambassador is one of the top performance Borzois Germany.
Ambassador's Pedigree

MIDNITE

Midnite passed away in January of 2006. He was a wonderful dog and is greatly missed.
Midnite, a lovely dominant black Borzoi, sired of a number of top performance Borzoi.
Midnite's Pedigree

ISIS

Silkenswift Isis O'Shadows JC
a lovely dominant black Borzoi bitch, mate to Midnite and sister to Banshee, Horus, Esmee and NLCC winner Pakhet. Pedigree of Isis

K'LAR

AKC FC, NOTRA SORC Silkenswift Intent K'lar ASFA FCh the first Borzoi SORC.

I have a number of essays on my Borzoi pages at Borzois.com on Borzois and breeding Borzoi.

Aurora the foundation bitch for Silkenswift and what she taught me about breeding Borzoi.

Travels with DARKNESS

Campaigning a Borzoi for the coursing Top Ten

Mr Moscow (Moscvich)

Picture and Bio-sketch of Moscow a male Borzoi from Russia who was sent to Dr James Sillers and then came to live at Silkenswift.

BUYAN
Picture and Bio-sketch of Buyan a male Borzoi from Russia who came to the United States in 1984.
Farewell to Mr Blaze who passed away in his sleep March, 2006
| | | |
| --- | --- | --- |
| | To e-mail Bonnie Dalzell use the address below: | |

Borzois.com Main Page
|
Bonnie Dalzell's Home Page
Page and site updated May 09, 2015. Look for more updates soon.
---